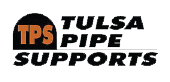 Manufactured using a tried and true epoxy load bearing resin system "Chockfast" which offers outstanding physical properties such as 15,250 psi compressive strengths and tensile strengths of 1,890 psi. All pipe supports are shipped in pairs with ready to assemble Zinc-Plated threaded rod, nuts, and washers. Also available with Stainless Steel Hardware, pricing and availability upon request.
Tulsa Pipe Supports and clamp systems are an excellent solution to pipeline installation process!
• Fully Adjustable, Easy Removal for Pipe Inspection, Painting, Corrosion Control process, etc.
• Dielectric Insulation (No need for Insulation Pads
• Title 49 Part 192.479 thru 192.481 for Gas Transmission Pipelines
• Complies with D.O.T. / ASME Standard 192.161 Sections C & D
• Standard Sizes Fit 2" to 52" Diameter Pipe (Custom Sizes Available)
• Custom Designed Pier Mounting Plates and Installation
• Complies with D.O.T. – Office of Pipeline Safety Code of Federal Regulations, Atmospheric Corrosion Control Part 195 for hazardous liquid pipelines