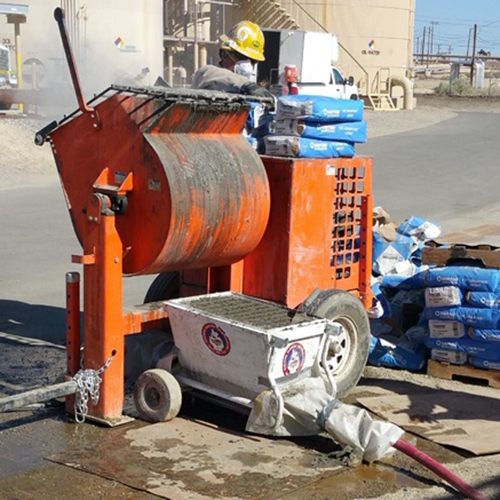 Mixing Equipment – Mobile
Through years of trying to find the best in the business, we've done just that. High-quality pieces of equipment designed to mix all types of grouts (cementitious and epoxy), cement repair mortars, and structural concretes. They are tough, durable, and designed with input from MST to our manufacturer to create unique pieces of equipment for your application or material. Our mixers make setting the final product a seamless process.
The mixers come in a variety of designs from manual, towable models in 7, 9, and 12 Cu.Ft models to large mixing stations capable of 9 to 20 Cu. Ft mixes per load. Available drives include gas engine, electric motor (standard and explosion proof) with direct drive, or gas engine, diesel engine, and electric power with hydraulic mix/dump controls for ease of material placement. All our units have the capability to comply with OHSA silica rules using hardtops and vacuum systems designed by MST and built to our specifications. Some of the hard-top designs are built to handle the specific requirements of epoxy grout products.
Give us a call and we'll help you size a piece of equipment to your needs.