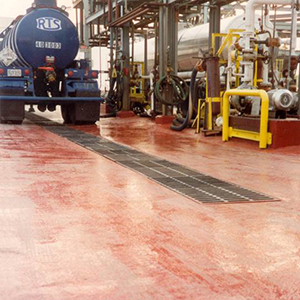 Whether repairing eroded concrete flooring, machinery foundations, equipment foundations, cracks in concrete walls and structures, leaks in concrete walls and tanks, metal surfaces, screw threads, punctures, cracks in pipes, or service equipment – Machine Support Technologies has the products that will get you up and running with minimal downtime.
MST specializes in products for the repair of most structural components and protective linings for pump and machinery cases. From voids in pump bases to cracks in concrete crack pipes and flooring, and most other commercial and industrial applications, we have the product to suit your needs. High strength, high-temperature epoxy paste, to high-temperature epoxy pipe wrap, ceramic repair liquid, ceramic repair putty, titanium repair and abrasion resistant compounds – MST can recommend a product that will work for just about any situation.
MST also has products to prevent the number killer in the workplace, "Slip and Fall". Our anti-slip floor and deck coatings and corrosion resistant paints are well proven at facilities all over the World. First developed for our U.S. Military for use on the decks of America's aircraft carriers, they've kept U.S. Navy personnel and equipment safe from slips, falls and skids under the most extreme conditions imaginable for years.
Coatings & Repair Systems Available for:
• Floor and Wall Systems
• Primary Containment
• Secondary Containment
• Chemical Resistant Coatings & Linings
• Wear Resistant Coatings & Linings
• Expansion Joint Systems
• Pipe Coating & Repair
• Pipe/Tank Lining
• Flexible Coatings and Joint Compound
• Primer Systems, Sub-Base / Soleplate
• Void/Crack Repair, Installation Systems
• Leak Sealing (Concrete Walls & Floors)
• Non-slip Systems
• Anti-graffiti
• Bonding Agents
• Filling & Smoothing Fairing Compounds
• Culvert Lining Systems
If you have a question about an application, installation, or just need help with a technical bulletin or an SDS Sheet, call us directly at: 661-399-7781  /  Ask an installation specialist a question [click here]
Protective Coating  & Repair Installations
Reinstall spare intermediate bearing to ship bedplate using Chockfast Orange [...]
Reinstall the turbine generator on new vibration isolators mounted to [...]
Install ship's main propulsion engines on Chockfast Orange epoxy chocks. [...]